Traditional smoothing irons were invented around 1872 by Marcel Grateau. It is an electric hairdressing device composed of two heating plates between which the hair strands are placed in order to be straightened or curled.
In recent years, we hear more and more about smoothing brushes. They are gaining more and more popularity because they have many advantages that we will at the end of the article. Here you will discover how a smoothing brush works. 
WHAT IS A STRAIGHTENING BRUSH?
A straightening brush is similar to a traditional brush that you are used to using. Instead of using plates that press on the hair, it uses heated bristles to smooth the strands. The bristles are often nylon or silicone and the heating plate is ceramic or ionic.
In addition to being very easy to handle, lightweight and very handy, they have a very nice design.
HOW HAIR STRAIGHTENING BRUSH WORK?
First of all, it is good to know that unlike traditional hair straighteners that need a lot of heat to work. Straightening brushes can be used on a daily basis, they do not damage your hair.
Straightening irons, on the other hand, require a lot of heat to do their job, they are not meant to be used every day. All that heat really damages your hair.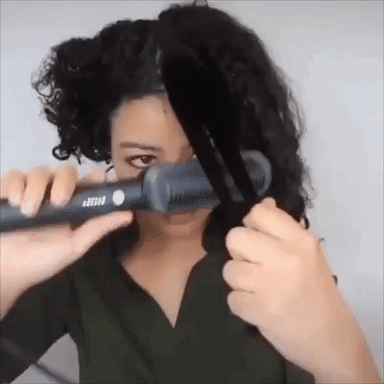 First of all, like the traditional straighteners, the straightening brush once turned on starts to heat up. It takes 60 seconds to reach the chosen heat, it allows you to save a significant time. Different temperature modes are available, between 130°C (266°F) and 210°C (410°F).
The particularity of these straightening brushes is that the nano titanium coated bristles offer an ideal tension to smooth and shine all types of hair.
In addition to having a smoothing effect very easily in a single pass, it will make your hair shiny and remove frizz.
The TICKY straightening brush saves you a lot of time in the morning to style your hair.
TESTIMONIAL FROM LAURA, TICKY STRAIGHTENER BRUSH USER
-Laura. D (Verified Customer) ⭐️⭐️⭐️⭐️⭐️
"I have been using the Ticky Smoothing Brush for 6 months. My hair is thick, frizzy and curly at the ends. My hair was very damaged from daily use of the straightener. Since I got a straightening brush, I use it regularly. I always have a nice clean blow-dry and thanks to the ionic function of the brush, I don't have any frizz. My daughter keeps stealing it from me lol I'm going to order her one for her birthday."